Submitted by Gavroche on Wed, 06/16/2021 – 15:05
A social outbreak is taking place in the Colombian region, which had already 45 days of permanent mobilization throughout the territory.
As has happened on various occasions, the mobilization has been marked by state terrorism that has taken place in various demonstrations, including the brutal repression of mobilizations at the hands of the National Police, judicial assemblies, and systematic assassinations.
Colombia: President Duque Disguises State Terrorism
Unfortunately, these situations are not new in the country, as the Colombian State is characterized by having intimate alliances with paramilitaries and drug trafficking.
As an example of the above, we can mention that, in 2020, 76 massacres were carried out with a balance of 272 people killed, according to official figures from the Office of the UN High Commissioner for Human Rights (OHCHR);
From April 28 – the day the national strike began – to June 11, the Defender La Libertad Campaign indicates that there are 78 people murdered, 3,086 arbitrary arrests, 84 missing persons, 79 victims of eye injuries and 106 cases of sexual violence.
18-year-old student Dilan Cruz, killed on Day 5 by the police during a peaceful demonstration in Bogotá, one of hundreds shot down by police and army aided by US backed far right mercenary drug militias..
Most of these actions have been perpetrated by the public forces and armed civilians through paramilitary strategies.
In response to the social outbreak, the state headed by President Iván Duque has established the usual script that reinforces the discourse of the internal enemy, pointing out the protesters as vandals under orders from illegal armed groups.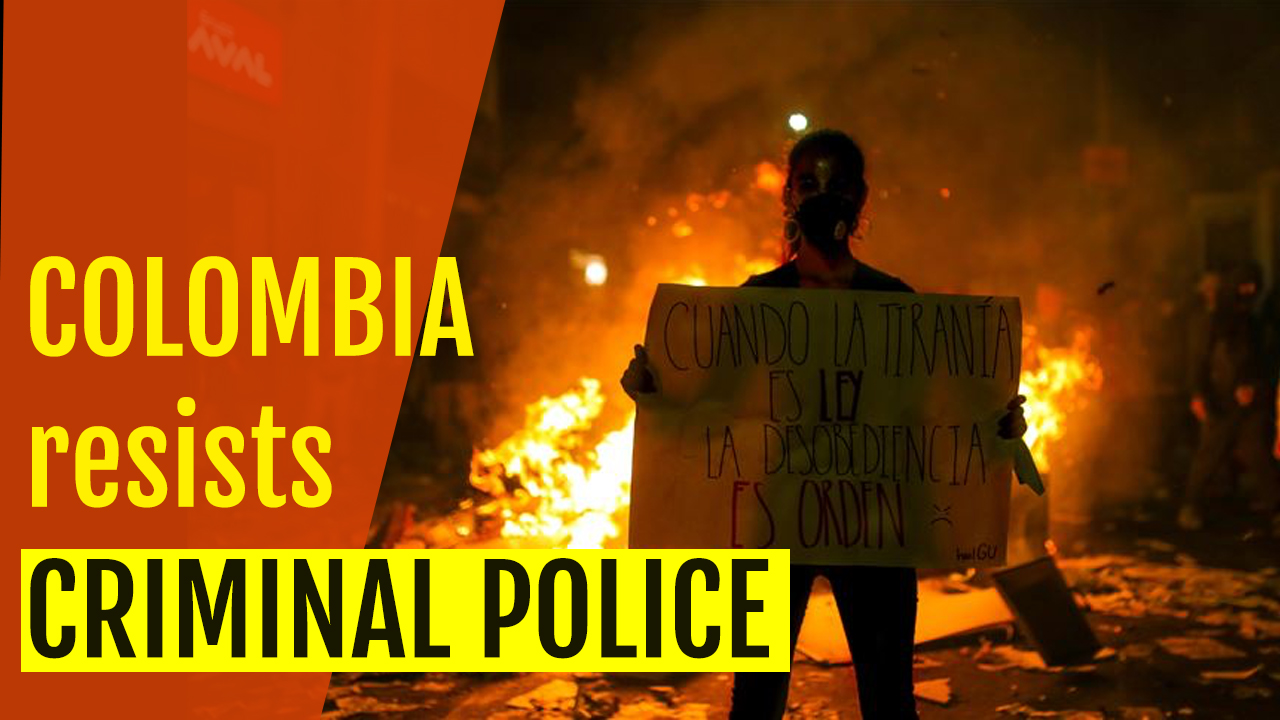 The treatment given to social protest is to create a scenario of a frontal war against ethnic, peasant, neighborhood, student and union organizations that have been in constant mobilization against years of criminal policies of the governments of the day that have been under the mandate of Álvaro Uribe Velez, former president investigated multiple times for crimes against humanity such as the so-called "False Positives", that is, extrajudicial executions of civilians killed by the military forces to present results and obtain benefits, which, according to the Jurisdiction Especial para la Paz (JEP), reaches a scandalous figure of 6402 murders.
The protests that began with a call from the National Unemployment Committee, (a platform that brings together some union sectors of workers, pensioners, teachers and peasants) have grown in actions, thanks mostly to the young people who have seen direct action in the street their main ground of protest.
Blind revolutionary visionary Jesus Santrich murdered after US Puts Up Reward U.S.-backed commandos kill blind Colombian revolutionary leader
Although the union bureaucracy represented in the National Unemployment Committee is in spaces of conversation and mediation with the State institutions, the streets have maintained a level of belligerence and organization far from these old methods of conciliation typical of the bureaucracy, taking into account furthermore, that those "negotiators" are part of the "center" and "center-left" parties.
Starting from this, spaces of resistance have been organized in different parts of the country such as Cali, Bogotá, Buga, Popayán, Bucaramanga and on roads in the Southwest of Colombia as well as in the northeast, in which the methods of struggle go through horizontality, action direct and mutual support.
Police officer stops his bike to murder 16 yr old Marcelo in Cali
Screen shot from a video shows the killing of Marcelo, one of many. If this were Iran or Hong Kong it would be all over the mass media, but Colombia is a US client state.
It is important to highlight the relevance of the first lines as a method of containing police violence, in these they have organized not only young people, but also teachers, mothers and even priests; These groups have accumulated quite a significant level of resistance and legitimacy at this juncture, even in places like Cali, they are legitimate and recognized interlocutors in front of the government authorities.
The situation today, after 45 days, is bittersweet, as they are still counting dead and wounded people who are part of the demonstrations that end in confrontations with the public force, in addition to impunity in the face of war practices such as attacks on Human Rights verification commissions in the streets and medical missions that assist women. injured people.
The State has used macabre methods to terrorize such as power and internet outages , pressure from paramilitary groups, judicial montages of protesters and methods of censorship such as restrictions on the live broadcast of protests.
Colombian security forces massacre 10 youth protesting
On the other hand, the reasons for the National Strike have spread, as well as the withdrawal of the Tax Reform with which the protests began, as well as the withdrawal of the Health Reform (attack on classes casualties), and the resignation of 3 senior government officials (Minister of Finance, Minister of Foreign Affairs and the High Commission).
Although we count these as small achievements, we know that the government pressured by the big businessmen will always seek to carry out reforms to feed and support their class interests while workers and their families continue to suffer from poverty; in Colombia more than 40% of the population lives in poverty (DANE figures).
The demands that are heard in the streets and highways range from the request for the resignation of Ivan Duque and his entire cabinet, the demilitarization of the territories, structural reforms to the military and police forces, the non-judicialization of the people who have been captured. within the framework of social protest, the effective implementation of the peace agreements signed between the FARC-EP and the Government, guarantees for social and environmental leaders in rural and urban territories, stop the spraying with glyphosate and fracking, among many others.
Military massacre in southwest Colombia. At least 8 killed …
We know that we are living a historic moment, the result of years of State terrorism and criminal policies of precarious living conditions of millions of people in fields and cities.
At this moment we see the accumulated of the strikes of 2018, 2019 and the social outbreak of 2020 in the month of September, brutally repressed.
Now, social protest has focused its attention on social processes, it has worked to strengthen the social fabric in neighborhoods, sidewalks, municipalities and entire cities, carrying out activities with neighbors, building assemblies or work tables according to their needs. concrete little by little, step by step, because the forms of organization are still widely dispersed and without a clear horizon, but rage and assembly methods are latent in a people that seeks to change its damned history in search of a good life, decent living conditions.
We cannot forget the fundamental role that organized indigenous communities have had in the Cauca Regional Indigenous Council (CRIC) and in the South-West Indigenous Authorities (AISO), who with their endurance and bravery have given momentum and oxygen to the mobilization.
Report: Several dead in Colombia protests over police …
Furthermore, they have invited us to question the part of History that they have always told us, the one that sees the conquerors as heroes and the native peoples as savages.
Finally, we extend an invitation to closely follow the process that Colombia is going through, since the guarantees of protest and life for the State only exist on paper and, proof of this, is the war treatment that has been given to the social protest by the Minister of Defense, commander of the army and the Police.
Only the popular organization and the international observers can register the massacre that the State is committing at this time. The dissemination and internationalist actions of pressure against the Duque government are essential for the process we are living through.
In the face of state repression, popular organization!
Up those who fight!
Colectivo Contrainformativo SubVersión
Support the resistance in Colombia financially
https://www.vrijebond.org/support-the-resistance-in-colombia-financially/
A generation of children has grown up in Colombia in poverty. Their parents were small farmers who were murdered by an alliance between paramilitaries and large corporations and driven from their land to make way for banana plantations and mining.
Or their parents were native Colombians or Afro-Colombians who had to leave for the slums of the big cities because their territories were sold to multinationals.
In an economic model that is only focused on robbing resources to supply the North, for them there are no job. For them there is only abject poverty.
For them, there are the army officers who approach the youngsters in their poor neighboorhoods, pretending to be businessmen, offering them a job and then killing them to count them in the statistics of killed guerrillas, the so-called falsos positivos.
These children see how the elites have deliberately sabotaged the 2016 peace agreement because they need the war to maintain their macabre privileges.
These children have no chance of work or study and saw how the corona pandemic was abused to rule by decree to push them further into misery on a daily basis, while the alliance of the elites, extreme right-wing politicians, paramilitaries and mafia continues to enrich itself. at their expense.
These children have now grown up, are strong and well organized and with the spirit to fight back.
The young adults are revolting en masse in a peaceful resistance movement called Paro Nacional. A tax reform announced in late April this year that would raise the prices of basic necessities was the last straw. They won this first battle and with it they gained confidence.
The government's response has been that of more repression, so far at least 61 protesters have been killed, nearly 600 missing, with many victims of police sexual assault and countless injured. But the uprising continues with determination, for more than a month now.
This generation has nothing to lose and everything to gain. In this resistance they show a high level of self-organization in the neighborhoods and between the different collectives. Losing would mean revenge from the elites, winning would mean a dignified existence.
But to continue they need pamphlets, logistics for the manifestations, medicines, food, etcetera. Money is needed to continue and these sections of the population have no money. Your financial support will be distributed among the following three collectives and activities in the city of Medellín. The names of the collectives are not mentioned in connection with their safety, but are known to the Vrije Bond. See this general impression of the movement in Medellín:
Collective first aid
Every day in Medellín, people are injured by the police brutality against peaceful demonstrators. This collective carries out the following activities within the framework of the Paro Nacional, which will be continued with your support:
1. The collective provides first medical aid during the demonstrations to the injured victims of the police violence. They have also set up a home as an emergency hospital where the injured are treated without the risk of being arrested. Your support will be spent on the purchase of medical equipment
Pamphlets will be printed from your contribution explaining to protesters how to protect themselves against police brutality
Collective in marginalized neighborhoods
This collective has years of experience working with young people in the marginalized neighborhoods in the western parts of Medellín. Here, through self-organization and creative expression, young people are offered an alternative against violent gangs in the neighborhoods and the value patterns on which they are based. Within the framework of the Paro Nacional, the collective realizes the following activities that will be continued with your support:
1. Several days a week, this collective organizes Asambleas Populares in the neighbourhoods, accessible to all interested residents and other collectives. In this bottom-up self-organization ideas are heard and decisions are made about the actions that will follow within the framework of the Paro Nacional. Your donation will be used for the logistics of these asambleas.
2. The collective mobilizes and organizes the young people in the neighborhoods with creative actions such as political murals, flash mobs, music, etc. Your contribution will be spent on purchasing material for these actions.
3. The manifestations of the Paro Nacional are characterized by a high artistic level, which is essential to create awareness and keep the movement vital and organic. The collective organizes the mobilization and logistics of political music groups, flash mobs and other artists from these neighborhoods to the manifestations in other parts of the city. Your contribution will be spent on the transportation of instruments and other logistics.
Political student organisation
The political student movement is a very important part of the Paro Nacional.
The collective produces material with political slogans that are visibly present in the manifestations. With your contribution the necessary material can be purchased.
The collective offers support to the protesters of the primera linea. This is a group of demonstrators, often consisting of the very poorest young people, who are at the front of the demonstrations and try to offer the other protesters protection against police violence. They are considered popular heroes. Your contribution will be spent on food and protective clothing for this group.
Please send your contribution to:
VB solidariteitsfonds
NL25 INGB 0007 6604 36
Mentioning 'Medellin' with your transfer
A million thanks from struggling Colombia.
A 45 días del estallido social en la región colombiana
Enviado por Gavroche en Mié, 16/06/2021 – 15:05
*Artículo enviado a la Agencia de Noticias Anarquistas el pasado 13 de junio:
https://noticiasanarquistas.noblogs.org/post/2021/06/15/45-dias-de-agitacao-social-na-regiao-colombiana/.
En la región colombiana tiene lugar un estallido social que ya cumple 45 días de movilización permanente a lo largo y ancho del territorio. Como ha sucedido en diversas ocasiones, la movilización ha estado marcada por el terrorismo de Estado que se ha tenido en diversas manifestaciones, pasando por la brutal represión a las movilizaciones a manos de la Policía Nacional, montajes judiciales y asesinatos sistemáticos. Desafortunadamente, estas situaciones no son nuevas en el país, pues el Estado colombiano se caracteriza por tener íntimas alianzas con el paramilitarismo y el narcotráfico. Como ejemplo de lo anterior, podemos mencionar que, en el año 2020 se ejecutaron 76 masacres con un saldo de 272 personas asesinadas, según las cifras oficiales la Oficina de la Alta Comisionado de la ONU para los Derechos Humanos (ACNUDH); desde el 28 de abril -día en que inició el paro nacional- hasta el 11 de junio, la Campaña Defender La Libertad indica que hay 78 personas asesinadas, 3086 detenciones arbitrarias, 84 personas desaparecidas, 79 víctimas de heridas en los ojos y 106 casos de violencia sexual, cabe mencionar que, en su mayoría estas acciones han sido perpetradas por la fuerza pública y civiles armados a través de estrategias paramilitares.
Como respuesta al estallido social, el Estado en cabeza del presidente Iván Duque ha establecido el guión de siempre que refuerza el discurso del enemigo interno, señalando a lxs manifestantes como vándalxs bajo ordenes de grupos armados ilegales. El tratamiento que se le da a la protesta social es crear un escenario de una guerra frontal contra las organizaciones étnicas, campesinas, barriales, estudiantiles y sindicales que se han mantenido en movilización constante contra años de políticas criminales de los gobiernos de turno que han estado bajo el mandato deÁlvaro Uribe Velez, expresidente investigado múltiples veces por crímenes de lesa humanidad como los mal llamados "Falsos Positivos", es decir, ejecuciones extrajudiciales de civiles asesinados por las fuerzas militares para presentar resultados y obtener beneficios, la cual, según la Jurisdicción Especial para la Paz (JEP), llega a una escandalosa cifra de 6402 asesinatos.
Las protestas que iniciaron con un llamado del Comité Nacional del Paro, (plataforma que agrupa a algunos sectores gremiales de trabajadorxs, pensionadxs, maestrxs y campesinxs) han crecido en acciones, gracias en su mayoría a lxs jóvenes que han visto en la acción directa en la calle su principal terreno de protesta.
Si bien la burocracia sindical representada en el Comité Nacional del Paro está en espacios de conversación y mediación con las instituciones del Estado, las calles han mantenido un nivel de beligerancia y organización distantes de estos viejos métodos de conciliación propios de la burocracia, teniendo en cuenta además que, aquellxs "negociadorxs" hacen parte de partidos de "centro" y "centro izquierda".
Partiendo de esto, se han organizado espacios de resistencia en distintos puntos del país como Cali, Bogotá, Buga, Popayán, Bucaramanga y en carreteras del Suroccidente colombiano como en el nororiente, en los que los métodos de lucha pasan por la horizontalidad, la acción directa y el apoyo mutuo. Es importante destacar la relevancia que tienen las primeras líneas como método de contención de la violencia policial, en estas se han organizado no solo jóvenes, sino también profesorxs, madres y hasta sacerdotes; estos grupos han acumulado un nivel de resistencia y legitimidad bastante importante en esta coyuntura, incluso en lugares como Cali, son interlocutores legítimos y reconocidos frente a las autoridades gubernamentales.La situación hoy, luego de 45 días, es agridulce, pues todavía se siguen contando personas muertas y heridas que son parte de las manifestaciones que terminan en confrontaciones con la fuerza pública, además de la impunidad frente a prácticas de guerra como las agresiones a las comisiones de verificación de Derechos Humanos en las calles y a las misiones médicas que socorren a las personas heridas. El Estado ha hecho uso de métodos macabros para aterorizar como cortes de luz e internet, presiones por parte de grupos paramilitares, montajes judiciales a manifestantes y métodos de censura como restricciones a la difusión en vivo de protestas.
Por otro lado, los motivos del Paro Nacional se han extendido, así como se pueden contar como logros de la movilización el retiro de la Reforma Tributaria con la cual iniciaron las protestas, también el retiro de la Reforma a la Salud (atentado a las clases bajas), y la renuncia de 3 altos cargos del gobierno (Ministro de Hacienda, Ministra de relaciones Exteriores y el Alto comisionado para la paz). Aunque contamos estos como pequeños logros, sabemos que el gobierno presionado por los grandes empresarios siempre buscarán efectuar reformas para alimentar y respaldar sus intereses de clase mientras lxs trabajadorxs y sus familias siguen padeciendo la pobreza; en Colombia de más del 40% de la población se encuentra en condiciones de pobreza (cifras del DANE). Las exigencias que se escuchan en las calles y carreteras van desde el pedido de renuncia a Ivan Duque y todo su gabinete, la desmilitarización de los territorios, reformas estructurales a las fuerzas militares y de policía, la no judicialización de las personas que han sido capturadas en el marco de la protesta social, la implementación efectiva de los acuerdos de paz firmados entre las FARC-EP y el Gobierno, garantías para los lideres sociales y ambientales en territorios rurales y urbanos, detener las aspersiones con glifosato y el fracking, entre muchas otras.
Sabemos que estamos viviendo un momento histórico, resultado de años de terrorismo de Estado y políticas criminales de precarización de las condiciones de vida de millones de personas en campos y ciudades. En este momento se ven los acumulados de los paros del 2018, 2019 y el estallido social del 2020 en el mes de septiembre, brutalmente reprimido. Ahora, la protesta social ha fijado su atención en los procesos sociales, se ha trabajado en el fortalecimiento del tejido social en barrios, veredas, municipios y ciudades enteras realizando actividades con vecinas y vecinos, construyendo asambleas o mesas de trabajo de acuerdo a sus necesidades concretas poco a poco, paso a paso, porque aún las formas de organización están muy dispersas y sin un horizonte claro, pero la rabia y los métodos asamblearios se ven latentes en un pueblo que busca cambiar su condenada historia en busca de un buen vivir, de condiciones dignas de vida.
No podemos olvidar el papel fundamental que han tenido las comunidades indígenas organizadas en el Consejo Regional Indígena del Cauca (CRIC) y en las Autoridades Indígenas del Sur-Occidente (AISO), quienes con su aguante y berraquera han dado impulso y oxígeno a la movilización social, además, nos han invitado a cuestionar la parte de la Historia que siempre nos han contado, la que ve a los conquistadores como héroes y a los pueblos nativos como salvajes.
Por último, extendemos una invitación a seguir de cerca el proceso que está viviendo Colombia, pues las garantías de protesta y vida para el Estado sólo existen en el papel y, muestra de ello, es la negación del tratamiento de guerra que se le ha dado a la protesta social por parte del ministro de Defensa, comandante del ejército y de la Policía. Solo la organización popular y lxs veedores internacionales pueden registrar la masacre que el Estado está cometiendo en estos momentos. La difusión y las acciones internacionalistas de presión al Gobierno de Duque son imprescindibles para el proceso que estamos viviendo.
¡Ante la represión estatal, organización popular!
¡Arriba las que luchan!
Colectivo Contrainformativo SubVersión
Apoya económicamente la resistencia en Colombia
columbia
paro nacional optreden
https://www.vrijebond.org/support-the-resistance-in-colombia-financially/
Una generación de niños ha crecido en Colombia en misère. Sus padres eran pequeños agricultores que fueron asesinados por una alianza entre paramilitares y grandes corporaciones y expulsados ​​de sus tierras para dar paso a las plantaciones bananeras y la minería. O sus padres eran colombianos nativos o afrocolombianos que tuvieron que irse a los tugurios de las grandes ciudades porque sus territorios fueron vendidos a multinacionales. En un modelo económico que solo se enfoca en robar recursos para abastecer al Norte, para ellos no hay trabajo. Para ellos solo hay pobreza abyecta. Para ellos, están los oficiales del ejército que se acercan a los jóvenes de sus barrios pobres, pretendiendo ser empresarios, ofreciéndoles un trabajo y luego matándolos para contarlos en las estadísticas de guerrilleros muertos, los llamados falsos positivos. Estos niños ven cómo las élites han saboteado deliberadamente el acuerdo de paz de 2016 porque necesitan la guerra para mantener sus macabros privilegios.
Estos niños no tienen ninguna posibilidad de trabajar o estudiar y vieron cómo se abusaba de la pandemia de la corona para gobernar por decreto y empujarlos más a la miseria a diario, mientras la alianza de las élites, políticos de extrema derecha, paramilitares y mafias continúa enriquecerse. a sus expensas.
Estos niños ahora han crecido, son fuertes, están bien organizados y tienen el espíritu de defenderse. Los jóvenes adultos se rebelan en masa en un movimiento de resistencia pacífica llamado Paro Nacional. Una reforma fiscal anunciada a finales de abril de este año que elevaría los precios de los artículos de primera necesidad fue la gota que colmó el vaso. Ganaron esta primera batalla y con ella ganaron confianza. La respuesta del gobierno ha sido de más represión, hasta el momento al menos 61 manifestantes han sido asesinados, casi 600 desaparecidos, con muchas víctimas de agresión sexual policial e innumerables heridos. Pero el levantamiento continúa con determinación, desde hace más de un mes. Esta generación no tiene nada que perder y mucho que ganar. En esta resistencia muestran un alto nivel de autoorganización en los barrios y entre los diferentes colectivos. Perder significaría venganza de las élites, ganar significaría una existencia digna. Pero para seguir necesitan folletos, logística para las manifestaciones, medicinas, comida, etcétera. Se necesita dinero para continuar y estos sectores de la población no tienen dinero. Su apoyo económico se distribuirá entre los siguientes tres colectivos y actividades de la ciudad de Medellín. Los nombres de los colectivos no se mencionan en relación con su seguridad, pero Vrije Bond los conoce. Vea esta impresión general del movimiento en Medellín:
Primeros auxilios colectivos
Todos los días en Medellín, la gente es herida por la brutalidad policial contra manifestantes pacíficos. Este colectivo realiza las siguientes actividades en el marco del Paro Nacional, que se continuará con su apoyo:
El colectivo brinda primeros auxilios médicos durante las manifestaciones a los heridos víctimas de la violencia policial. También han habilitado una vivienda como hospital de emergencia donde se atiende a los heridos sin riesgo de ser detenidos. Su apoyo se destinará a la compra de equipos médicos.
Se imprimirán folletos de su contribución que explican a los manifestantes cómo protegerse contra la brutalidad policial.
colombia paro nacional medische noodhulp
Colectivo en barrios marginados
Este colectivo tiene años de experiencia trabajando con jóvenes de los barrios marginados del occidente de Medellín. Aquí, a través de la autoorganización y la expresión creativa, se ofrece a los jóvenes una alternativa contra las pandillas violentas en los barrios y los patrones de valores en los que se basan. En el marco del Paro Nacional, el colectivo realiza las siguientes actividades que se continuarán con su apoyo:
Varios días a la semana, este colectivo organiza Asambleas Populares en los barrios, accesibles a todos los vecinos interesados ​​y otros colectivos. En esta autoorganización de abajo hacia arriba se escuchan ideas y se toman decisiones sobre las acciones que seguirán en el marco del Paro Nacional. Su donación se utilizará para la logística de estas asambleas.
El colectivo moviliza y organiza a los jóvenes de los barrios con acciones creativas como murales políticos, flash mobs, música, etc. Tu aporte será destinado a la compra de material para estas acciones.
Las manifestaciones del Paro Nacional se caracterizan por un alto nivel artístico, que es fundamental para crear conciencia y mantener el movimiento vital y orgánico. El colectivo organiza la movilización y logística de grupos de música política, flashmobs y otros artistas de estos barrios para las manifestaciones en otros puntos de la ciudad. Su contribución se gastará en el transporte de instrumentos y otra logística.

colombia paro nacional resistencia pacifica muurschildering
colombia paro nacional asamblea popular pamflet

Organización política estudiantil
colombia no al atraco tributario
El movimiento político estudiantil es una parte muy importante del Paro Nacional.
El colectivo produce material con consignas políticas que están visiblemente presentes en las manifestaciones. Con tu aportación se puede adquirir el material necesario.
El colectivo ofrece apoyo a los manifestantes de la primera línea. Se trata de un grupo de manifestantes, a menudo formado por los jóvenes más pobres, que están al frente de las manifestaciones y tratan de ofrecer a los demás manifestantes protección contra la violencia policial. Se les considera héroes populares. Su contribución se gastará en alimentos y ropa protectora para este grupo.
Envíe su contribución a:
VB solidariteitsfonds
NL25 INGB 0007 6604 36 Nederland
Mencionar "Medellín" con su transferencia
Un millón de gracias de la lucha de Colombia.