A disciplinary investigation was launched into nine inmates, including politicians, for singing Kurdish songs in the Elazığ Prison.
Report from Jinnews and Duvar news, Turkish Minute and Stockholm Center for Freedom .shared with thanks Tuesday August 24 2021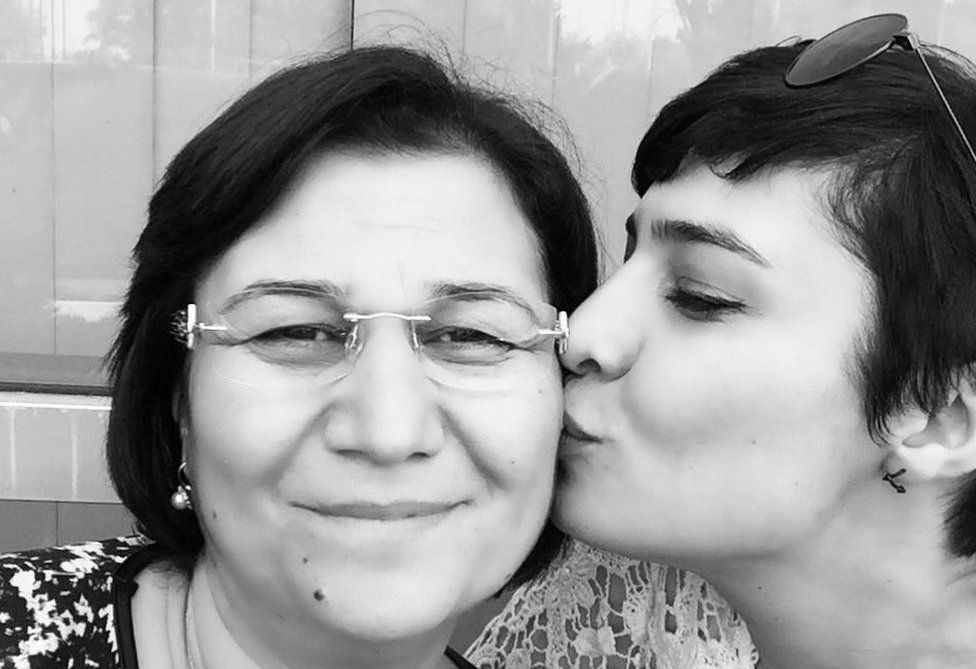 Over 50 years people have been imprisoned in Turkey for singing in the Kurdish language. So it is no surprise that nine inmates, including Leyla Güven and other ex elected reps, are being punished for singing Kurdish songs in the Elazığ Prison.
Leyla is by now a world famous revolutionary grandmother, who won a 200 day hungerstrike when illegally imprisoned by a fascist monster, inspiring people, and especially women everywhere.
Leyla is back in prison, serving a 22 year 'evidence-free' sentence, for 'supporting the PKK', the Kurdish workers party being repressed by the genocidal Turkish regime. Leyla was elected co-chairwoman of the Democratic Society Congress (DTK) and active in the blossoming feminist/democratic 'Kurdish Spring', 2014-2017, cut short when the Regime unleashed a military offensive against all things Kurdish.
In the 40 years existence of the self defense Kurdish Workers Party, PKK, the terrorist Turkish Regimes have caused over 40,000 deaths repressing it.
The AKP governing party, backed by the fascist right, abandoned the peace process with a campaign of provocations, killings and false flag attacks before a huge military and propaganda crackdown against everything Kurdish leading to the curfews, bombing and destruction of Kurdish majority cities in Turkey, with little interference from the West, due to NATO membership and EU affiliation hopes.
In 2018 Leyla went on HungerStrike when imprisoned despite her parliamentary immunity. She and her many supporters demanded access to the Kurdish leader Öcalan who is detained in isolation for life without trial.
It was Öcalan who twice organised unilateral ceasefires between the PKK and the Regime, lasting years, and whose new political philosophy inspired the Kurdish Spring and the Rojava Revolution. He was the key, only by rehabilitating Öcalan could Peace be rebuilt and fierce repression end..
The Hunger strike snowballed as hundreds of prisoners and activists joined in, after nearly 200 days the Regime hospitalised Leyla and left her to die, still on strike at home, and finally allowed lawyers access to Öcalan, who called for an end to the hungerstrike.
A victory, though 5 supporters died in suicide protests, many had their health ruined, and Leyla, along with many supporters, co-Mayors and elected Parliament delegates were later jailed indefinitely for the nebulous crime of 'saying or doing things that show support for the PKK'.
Güven, who was a deputy from the HDP, underwent numerous investigations, with one being for referring to Öcalan as "Mr. Öcalan."
Latest reports detail how a disciplinary investigation was launched into nine inmates, including Leyla Güven and other ex elected reps, for singing Kurdish songs in the Elazığ Prison.
According to the official report prepared by prison authorities on Aug. 16, the inmates sang songs and marches in an "unknown language."
Prohibitions against the use of Kurdish in Turkey go back many years. Kurdish language, clothing, folklore and names had been banned since 1937. The words "Kurds," "Kurdistan" and "Kurdish" were among those officially prohibited. After a military coup in 1980, speaking Kurdish was officially forbidden even in private life.
Many people who spoke, broadcast or sang in Kurdish were imprisoned. The ban officially continued until 1991. Kurds continue their struggle for Kurdish education in schools in the regions where they live.
Between 2010 and 2014, when an attempt was made to solve Turkey's Kurdish problem by means of an official "peace process" between the Turkish government and the outlawed Kurdistan Workers' Party (PKK), lectures were given in Kurdish in some schools, and Kurdish signs were installed in the cities. These rights were revoked after the failure of the peace talks'.
Authorities have increasingly restricted the use of Kurdish in recent years, and prisons have been no exception. Hate crimes against Kurds for speaking their language have also increased.
According to a recent report by the Association of Lawyers for Freedom (ÖHD) some prisons will not even deliver letters that contain Kurdish words or phrases.
Prisoners were told if they received letters with Kurdish words, they would have to pay for translation so the warden could monitor the content of the letters. Prices were set as high as $50 per page.
Destina Yıldız from the ÖHD said this was an unusual practice clearly aimed at discouraging the use of Kurdish. "Normally prisons should have somebody for translations if they want to translate letters. It is up to the prison to make the arrangements," she said.
In a separate controversy this week , according to Turkish media, a woman named Türkan Taşçı called into a program on Show TV hosted by Didem Aslan Yılmaz and started speaking Kurdish, upon which Yılmaz demanded she speak Turkish. "We are living in the Republic of Turkey, you need to speak proper Turkish," she said. "We don't understand Eastern languages." There are about 20 million Kurdish speakers in Turkey, though it is illegal to count them. Yılmaz then told her team to take Taşçı off the air.
Authorities also claimed that Leyla and the other inmates chanted slogans that supported Kurdistan Workers' Party (PKK) leader Abdullah Öcalan and were warned not to do so.
Democratic Society Congress (DTK) co-chair Leyla Güven, Peoples' Democratic Party (HDP)Diyarbakır provincial co-chair Hülya Alökmen Uyanık and Socialist Party of the Oppressed (ESP) deputy head Fethiye Ok Çiçek are among those who will undergo disciplinary investigation.
The inmates were told to provide their defense statements within three days, the report shared with the media by Güven through her lawyer showed.
Güven, lost her parliamentary status in June last year after a conviction was finalized in a separate trial that ruled she was a PKK member and was subsequently arrested.
So What is this 'PKK supporter'excuse for jailing people?
note: this is your NATO friend Mr Erdogan, the dead women and kids were the "terrorist PKK"
This is important because while on the terrorist list the PKK Kurdish Workers Party can have no international existence and Turkey can detain, attack, incarcerate, destroy and kill who and what they want with impunity just by labelling them PKK.
In the 40 years existence of the self defense Kurdish Workers Party, PKK, the terrorist Turkish Regimes have caused over 40,000 deaths repressing it.
Leyla was an elected deputy of the leftwing HDP party, now being made illegal with many deputies and Mayors now imprisoned for saying things 'supporting the PKK'.see also: Turkey sentences 41 ex-mayors from Kurdish HDP party to nearly 260 years…
In reality nowadays the PKK is some guerillas hiding in the Iraqi mountains of Sinjar, they are just the excuse for xenophobic racist repression.
The PKK, Kurdish Workers Party, was originally a classic underground national liberation Guerilla movement, in the 1980s, when the then 15 million Turkish Kurds had zero rights and totally suppressed language and culture. It was banned as a terrorist group by the US to please Turkey in NATO and the EU was pushed to do the same.
In the 2000's the PKK completely changed its politics and tactics. With the popularity of the policies of Öcalan and his supporters the ideas of Democratic Federalism were adopted.
These feature women's liberation, autonomy within Turkey instead of secession, social revolution, horizontal instead of hierarchical organisation methods, cooperative culture. The main influence comes from ideas of social anarchism, Murray Bookchin, Michel Foucault, Hannah Arendt, Karl Marx and Friedrich Engels as well as feminist political theory.
Armed struggle was out of favour, and the PKK unilaterally declared a truce, twice, with gradual trust building, flowering of Kurdish language culture, cooperatism and especially women's freedom… The Kurdish Spring.
However hatred and repression of Kurds remained. The 'Terrorists list' label was never revoked. The AKP far right party gained power on the back of anti minority racism and sponsoring ISIS sunnis in Syria, and finally broke the truce, jailed the Kurdish leaders, bombed and burned 8 Kurdish cities and invaded Syria, 3 times, to root out Kurdish revolutionary rebels.
So countless thousands of individuals and groups can be and often are labelled as PKK terrorists and killed or jailed indefinitely, notoriously for critical comments on Twitter, belonging to a coop, or resisting Islamic women's dress code….
Erdogan arrests 735 more Kurds as Peace Hunger Strikers near Death 2019
"We weren't palace clowns. We didn't kill people. We sang songs. Damn this system," said Gökçek shortly before his death. Mustafa Koçak, a 3rd member of the band, also died on hunger strike in prison on April 24 2020. Erdogan now has a second summer place with over 1000 rooms
French support for Hunger Strike
The Filthy Art of 'Genocide Psychosis': False Flag terrorism blames Kurds
Turkey detains 15 journalists, bans 700 news articles, in August
see also: Racist attack on Kurdish family in Konya, seven people killed
TheFreeOnline' blog banned in Turkey with Dozens more pro Rojava and anti Fascist sites
Emperor' Erdogan uses pretext of Childrens' Wedding Massacre..to attack the Victims!
PKK are NOT terrorists! Erdogan rejected Ocalan's Peace Plan, sabotaged their Truce, bombed their cities…
see also… HDP headquarters in Izmir stormed by racist mob and Kurdish worker Deniz Poyraz killed .
Letter from Leyla Güven to the women of the world during her 200 day hunger strike
via.. Rojava Azadî.. Letter from Leyla Güven to the women of the world
Dear women,
Even though our geographies are divided by thousands of kilometers, I'm glad you heard my voice. Even though we are from very different corners of the world, as women, we always feel. As Hypatia says, "none of us resemble each other, but the things that unite us are greater than those that separate us." We are all sisters. What unites us the most is our struggle for freedom, our resistance against all kinds of fascism, against the dictatorship and the patriarchal mentality.
Leyla in happier times, campaigning and elected deputy of the leftwing HDP party, now being made illegal (2021) with many deputies and Mayors now imprisoned for saying things 'supporting the PKK'. see also: Turkey sentences 41 ex-mayors from Kurdish HDP party to nearly 260 years…
Women who resist and fight always become symbols: Clara Zetkin, Rosa Luxemburg, the Mirabal sisters, Sakine Cansiz, Leyla Qasim and many other women become symbols through their struggle. As women, we are half of the world's population. However, we are all oppressed. When we begin to fight for our rights, we are labeled as terrorists.
All the women of the world must give fascism enough, enough to the dictatorship!
The murder of women through domestic violence, female genital mutilation, child marriages, women sentenced to death in Iranian prisons – Zenenep Celalyan is one of them – Kurdish women, who were banned from mother tongue, the Arabs who fled the war. All point to femicide. As women who are prepared to die, we can stop this femicide through the connection of our struggles. While we are determined to fight.
Dear sisters,
I am a Kurdish woman. My awareness of the injustices committed against women developed thanks to Mr. Abdullah Öcalan. It is through the importance of the struggle that Mr. Öcalan placed on the freedom and camaraderie of women, that millions of women have developed a strong willpower. Women have experienced an awakening.
And I am one of these women. I learned to be at peace with my gender, to fight against the patriarchal mentality, and I learned to be a feminist. When I heard from Mr. Öcalan that a society will only be free when women are free, for many years I have carried out a struggle for the freedom of women and I will continue to do so.
Mr. Öcalan, to whom I owe my own awakening, has been locked in an isolated cell for the past 20 years. In order to demand the removal of Mr. Öcalan's isolation, something that millions of Kurds see as their political will, I have started a hunger strike. Mr. Öcalan is an important actor in the efforts to create peace in the Middle East and in the world. As a prisoner, going against national and international laws, you are denied all your rights and freedoms.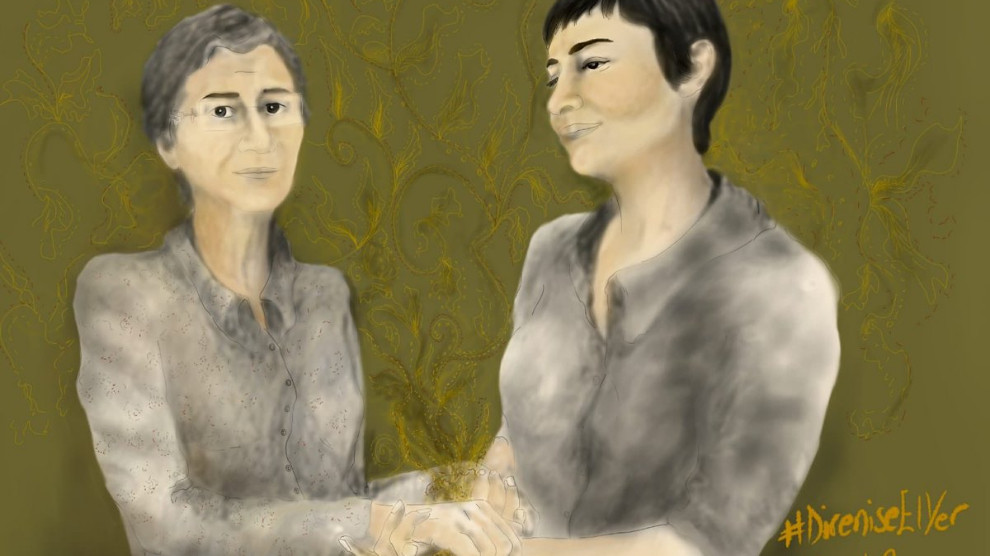 Leyla and her daughter
To request recognition of these rights, we, as Kurdish politicians of the People's Democratic Party (HDP) and the Democratic Society Council (DTK), are calling for an end to their isolation. We say that this is a crime against human rights. However, to silence us, the fascism of the AKP (Justice and Development Party) and MHP (Nationalist Movement Party) imprisoned us in prison. They specifically addressed women.
More than half of the imprisoned parliamentarians are women. The same goes for the mayors of cities, who were taken to prison. The mentality that does not accept the quota of women in politics has implemented a policy of 60-70% of women in prison.
I've been in prison for about a year. A prisoner has no more than his own body. So, I started this hunger strike. Now, together with me, in the prisons of the whole country we are already 230 friends, political prisoners, who have started an indefinite and irreversible hunger strike. Hannah Arendt has a beautiful quote: "Freedom means action. Because freedom can only be achieved through action.
The action drives the movement that resonates among the people. " The demands of my action are legitimate and of law. If our demands are not met, hundreds of people can lose their lives. If this happens in the 21st century, it will not only be the shame for Turkey, but that of all mankind. So that the world does not face such shame, the women of the world must do what they can. And without losing more time.
We will continue resisting. Resistance will help us win. Our belief in this is infinite. In this sense, I call them all to resist.
Long live the solidarity of the peoples and of the women.
Leyla Güven