leer en castellano abajo
On February 27, the trial begins of six demonstrators begins who fought against the placement of Tower 66 of the very high voltage line in Fellines, for whom the Prosecutor's Office, Red Eléctrica Española and the Catalan Government request between 2 and 8 years in prison. .
look carefully and you can see our brave companions hanging from this mega tower
WHAT IS THE M.A.T.?
The very high tension line ('Muy Alta Tensión' – M.A.T.) is an electrical motorway which transports at least 400,000 volts. It was constructed in order to connect European States to each other and also Europe with Africa. It is necessary in order to sell and distribute excess energy produced by nuclear power plants and buy and sell excess fossil fuel energy.
At the same time, it is the network which capitalism needs in order to supply the electricity necessary for other projects and infrastructures of death and destruction, such as high-speed railway lines [TAV]. Those responsible for all this are always the same ones and the construction companies in question are directly involved in other projects which are destroying lands around the world; companies like Vinci standing out in Europe and Endesa in South America.
The renewed resistance to the MAT in Feb 2018 comes during a general mobilisation in Girona for the Catalan Republic and the release of Political Prisoners. There are demands for the demoilition of the underused MAT line and for the cancelation of rthe upcomong MIDCAT /STEP gas pipeline, a useless EU funded infrastructure due to plough through Girona. see https://www.facebook.com/NoMesGasBCN/

---
part one:

  7 activists just got 1 year suspended and 544 euros fine each for the 5 month tree occupation in mid winter 2013/14
544 euros of fine for the 7 anti-MAT activists who were arrested at the eviction of the forest occupations ion Sant Hilari Sacalm
The sentence condemns them for "coercion and serious  disobedience to the authority", but fortunately exempts them from indemnifying Red Eléctrica with 41,000 euros!
Eviction of the anti-MAT camp at Les Guilleries in 2014.
The Criminal Court Number 5 of Girona imposed the fines  on each of the seven anti-MAT activists who spent a frigid winter in the trees  to avoid the construction of the Very High Tension line. In addition, the ruling also emphasized that the police had eavoid traps (such as ditches dug out of the ground)  and climb the trees to clear out the activists. 
---
  Part 2:

   Upcoming Trial of 6 who face up to 8 yrs each for Tower 66 Resistance

Tower 66 was to be erected just 15 meters from a farmhouse in the village of Fellines (municipality of Viladasens, Gironès).
Tower 66. Neighbors and activists placed a camper van with a car buried under it with an activist encased in cement inside at the point where the excavation was to be carried out .


Tower 66 became a symbol of resistance. The events took place on the morning of January 8, 2014 – four years ago – when the head of
the Mossos (ex Catalan Police) del Gironès police station and those responsible for the Grupo de Arquitectura y Obra Civil SLU company, subcontracted by REE- arrived at the site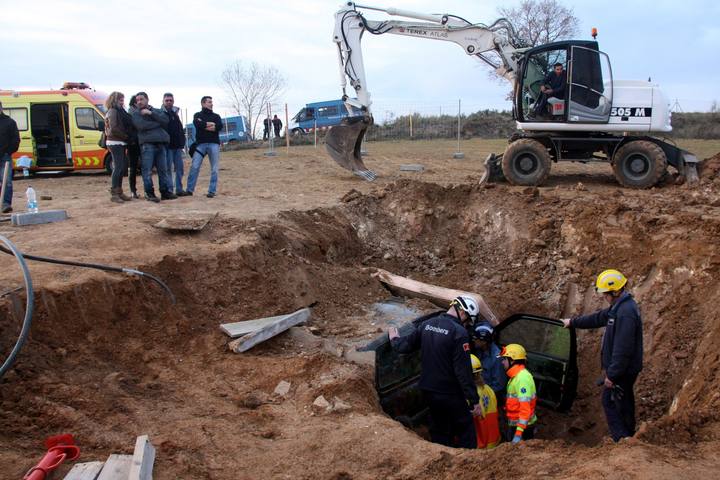 To the surprise of the policemen, when they removed the offending camper van they found a car had been buried deep underground , where one of the neighbors resisted with his arm buried in a cement structure. They couldn't get him out.

When the police tried to rip the car out with a digger it was clear they would kill the occupying activist. At this point physical resistance began.
The resistance was prolonged throughout the day, with the arrival of dozens of solidarity activists and numerous police officers, some of whom were transferred from Barcelona .
Riot Police charges and clashes took place. In one of these attacks, the undersigned MCM  chief of riot police  of Girona- acted brutally and, according to the report presented by the affected, broke his arm when he was trying to protect himself from a blow in his head . That is why this police agent will also sit on the bench of the accused on February 27.
On February 27 and 28 and on March 1 and 2, 2018 the Judgment against the person who resisted the police action from the inside of a buried vehicle  will be held at the Girona Court along with five other people identified in the demonstrations that took place on the police perimeter.
---
FLashback to Feb 2014        GIRONA vs MAT (Very high voltage line): CREATIVE RESISTANCE … A very high voltage line is to being set up  across the Girona territory (MAT line). … On January 8th, the day that the works for tower 66 had to start, Can Planelles -a house located less than 20 m from the tower– was surrounded by the police …
The private police prosecution asks for a penalty of five years and six months in prison for the crimes of aggravated injuries and torture, and compensation of 7,000 euros for the 120 days that were taken to cure the wounds and the subsequent sequels of pain and mobility.
The Prosecutor's Office asks for acquittal of the four police officers who participated in the charges asserting that they suffered injuries from stones or objects thrown by the protesters, and demands compensation ranging between 245 and 1,375 euros.
The bulk of the three-way criminal accusation is concentrated against the activists. The Prosecutor's Office requests penalties of between 2 and 7 years in prison, for crimes of public disorder, attack, attack with dangerous instrument, threats and damages, and for faults of injuries.
The Generalitat de Catalunya puts the accusation in penalties of between two and five years with four months. And Red Eléctrica Española still increases it more, with between three years and three months and the eight years and six months. In all cases with penalties, civil liabilities and associated compensation, which in case of non-payment could further increase the prison sentences.
The lawyer, Benet Salellas, the CUP president, has the defense of two of the environmental activists (together with Mireia Bazaga and Montserrat Vinyets), points out that "with MAT issues, the Generalitat continues to have a favorable position for the interests of large electric companies and no empathy with the people who defend the territory, aligning themselves with a punitive thesis and punishers of the right to protest.
 Demonstr

ation on February 24th.
It should be remembered that the fight
against the MAT has had the support of hundreds of entities and town councils throughout the current decade, with the important milestone of a demonstration in Girona that brought together about 15,000 people.
That is why the T66 campaign of very high tension wants to resume the mobilizations in the days before the trial.
In a statement and a video made public today, they regret that "it has been months since the political repression against society, but for years now it has struck the ecological, social and dissident movements."
They describe the facts that will be considered as "a disproportionate and aggressive police device, which through all its brutality and the omission of the security of the presents caused bruises, broken arms and death danger for the buried person."
Finally, they call for participation in the unitary demonstration that will take place at 5 pm on the afternoon of February 24 in Girona – three days before the trial begins – to "demand the acquittal of the six accused and the
dismantling the MAT ".
The trial of the case of the Tower 66 will be the last in relation to the previous opposition to the electrical infrastructure.
original en Catalá
Front comú de la Generalitat i l'Estat contra les activistes de la MAT
El 27 de febrer comença el judici a sis manifestants que van lluitar contra la col·locació de la Torre 66 de la línia de molt alta tensió a Fellines, per a qui la Fiscalia, Red Eléctrica Española i el Govern català demanen entre 2 i 8 anys de presó
Veïnes i activistes van col·locar una autocaravana en el punt sobre el qual s'havia de fer l'excavació i, per sorpresa dels policies, sota terra també hi havia enterrat un vehicle, on un dels veïns hi resistia amb el braç lligat a una estructura de ciment
Noa Morales
11/01/2018
No és conseqüència de l'aplicació de l'article 155, sinó que fou una decisió acordada per la Generalitat de Catalunya amb anterioritat al 27 d'octubre de 2017. Els serveis jurídics del Govern català, la Fiscalia i l'empresa Red Eléctrica Española (REE) sumen forces en l'embat contra sis activistes mediambientals que van participar en el que es va coneixer com les mobilitzacions de la Torre 66. La col·locació d'aquesta gran estructura de ferro culminava el traçat de la línia de Molt Alta Tensió (MAT) a les comarques gironines i s'havia convertit en un tot un símbol de resistència.
El 27 i 28 de febrer i l'1 i 2 de març de 2018 se celebrarà a l'Audiència de Girona el judici contra la persona que va resistir l'actuació policial des de l'interior d'un vehicle soterrat en el punt exacte on s'havia d'alçar la torre i altres cinc persones identificades en les manifestacions que es van succeir en el perímetre policial.
Els fets es van desencadenar el matí del 8 de gener de 2014 –ara fa quatre anys–, quan el cap de la comissaria dels Mossos del Gironès i els responsables de l'empresa Grupo de Arquitectura y Obra Civil SLU –subcontractada per REE– van arribar al lloc en litigi, a només quinze metres d'una masia habitada, al poble de Fellines (municipi de Viladasens, al Gironès).
Veïnes de la zona i activistes havien col·locat una autocaravana en el punt sobre el qual s'havia de fer l'excavació i, per sorpresa dels policies, sota terra també hi havia enterrat un vehicle, on un dels veïns hi resistia amb el braç lligat a una estructura de ciment.
La resistència es va perllongar durant tot el dia, amb l'arribada de desenes d'activistes solidàries i de nombrosos efectius policials, alguns dels quals traslladats des de Barcelona. Càrregues policials i enfrontaments se succeiren. En una d'aquestes escomeses el sotsinspector M. C. M. –cap dels antiavalots de Girona– va actuar amb contundència i, segons detalla la denúncia presentada per l'afectada, li va trencar el braç quan s'intentava protegir d'un cop de porra al cap.
És per això que l'agent també s'asseurà a la banqueta dels acusats el pròxim 27 de febrer. L'acusació particular demana per a ell una pena de cinc anys i sis mesos de presó pels delictes de lesions agreujades i tortures, i una indemnització de 7.000 euros pels 120 dies que van trigar a curar-se les ferides i les posteriors seqüeles de dolor i mobilitat. La Fiscalia en demana l'absolució.
Quatre policies que van participar en les càrregues asseguren que van patir lesions per pedres o objectes llançats pels manifestants, i reclamen indemnitzacions que oscil·len entre els 245 i els 1.375 euros.
El gruix de l'acusació penal a tres bandes es concentra contra les activistes. La Fiscalia demana penes d'entre 2 i 7 anys de presó, pels delictes de desordres públics, atemptat, atemptat amb instrument perillós, amenaces i danys, i per faltes de lesions. La Generalitat de Catalunya situa l'acusació en penes d'entre dos i cinc anys amb quatre mesos. I Red Eléctrica Española encara ho incrementa més, amb una forquilla entre els tres anys i tres mesos i els vuit anys i sis mesos. En tots els casos amb penes-multa, responsabilitats civils i indemnitzacions associades, que en cas de no pagar-se podrien incrementar encara més les penes privatives de llibertat.
Per Benet Salellas, advocat de les acusades, "és una pena que això continuï així després del que ha passat els últims mesos, la Generalitat hauria de canviar el seu paper de fer d'escuder de Red Eléctrica Española"
L'advocat Benet Salellas –exdiputat de la CUP–, que porta la defensa de dos dels activistes mediambientals (conjuntament amb les lletrades Mireia Bazaga i Montserrat Vinyets), assenyala que "amb els temes de la MAT la Generalitat continua tenint una posició d'afavoriment dels interessos de les grans empreses elèctriques i cap empatia amb la gent que defensa el territori, alineant-se amb tesis punitives i castigadores del dret a la protesta".
En aquest sentit afegeix que "és una pena que això continuï així després del que ha passat els últims mesos, la Generalitat hauria de canviar el seu paper de fer d'escuder de Red Eléctrica Española".
Manifestació el 24 de febrer
Cal recordar que la lluita contra la MAT ha sumat el suport de centenars d'entitats i ajuntaments al llarg de l'actual dècada, amb la important fita d'una manifestació a Girona que va aplegar prop de 15.000 assistents. És per tot això que la campanya T66 judici de molt alta tensió vol reprendre les mobilitzacions les setmanes prèvies al judici.
En un comunicat i un vídeo fet públic avui es lamenten que "fa mesos que la repressió política embat contra la societat, però ja fa anys que colpeja als moviments ecologistes, socials i dissidents". Descriuen els fets que aniran a judici com "un desproporcionat i agressiu dispositiu policial, que mitjançant tota la seva brutalitat i l'omissió de la seguretat dels presents provocà contusions, braços trencats i perill de mort per la persona soterrada".
Per últim fan una crida a participar en la manifestació unitària que tindrà lloc les 17h de la tarda del 24 de febrer a Girona –quan faltaran tres dies per l'inici del judici–, per "exigir l'absolució de les sis imputades i el desmantellament de la MAT".
Un cròquis de la infraestructura de l'espectacular acció de boicot
El judici pel cas de la Torre 66 serà l'últim en relació a l'oposició a la infraestructura elèctrica.