Notre-Dame-Des-Landes, France: Callout for self-managed anarcho-pirate camp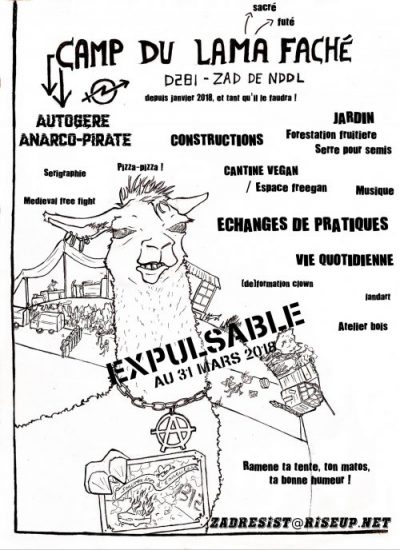 At the camp of the ANGRY Lama (or the "LA Masacrée") [at the Zad], we are not giving up and we over-occupy.
A tent houses the kitchen (vegan / freegan), the new building with a wooden floor continues to rise, with three walls, a roof and a large bay window, trees were planted …
We meet every day to build, exchange, monitor the cops who monitor us (nice atmosphere of de-escalation …). We organize ourselves.

Because we do not want to manage everything or manage others, but create the breeding ground to give birth to an organisation done by and for all, without giving place to power struggles, without structural oppression (sex, race, class, .. .).
Continue reading "Live and Love the Revolution: at Self managed Anarcho-Pirate Camp: ZAD!"